Join us for
First Fridays
, a monthly recurring event for undergraduate and graduate Princeton alumni, graduate students, and parents. On the first Friday of each month, area alumni and their guests will meet to enjoy a
prix fixe
luncheon at the Nassau Club in downtown Princeton. As a special bonus for PA3, a Princeton University PhD candidate will present his/her work to the group in this informal setting. Topics vary monthly and are always interesting! Have a look at our impressive roster of previous luncheons.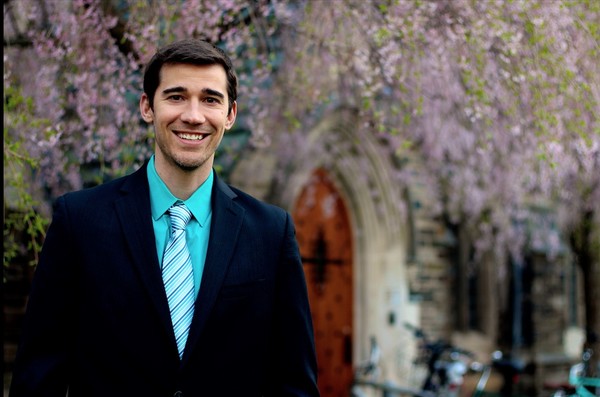 On Friday, September 8th, 2017, we will be joined Ryan O'Mara, PhD candidate at the Woodrow Wilson School and medical student at the University of Florida.
An aspiring pediatrician, he is interested in strategies to help socially disadvantaged children reach their full potential in life. His current research examines interventions during the critical earliest years of brain development when the child is most susceptible to positive and negative influences. For example, he is helping evaluate New Jersey's Home Visiting Program, which relies on nurses and social workers to visit families during pregnancy and throughout early childhood to provide a range of support services (such as nutrition and wellness education, parental instruction and coaching) to ensure a healthy, safe, and supportive environment during the first years of a child's life. On campus, Ryan and his wife Sara (along with their newborn, Isabella) are highly involved in programs supporting Princeton's first-generation, low-income students. His family helps provide hundreds of students with social and extracurricular opportunities that most college students take for granted (such as a home-cooked Thanksgiving dinner or a vacation during Spring Break).
As always, there is sure to be a lively discussion! Please join us.
Specially priced at $25/person (or $30 if you choose not to pay
PA3's annual dues
), lunch includes three courses, a complementary soft drink and coffee/tea. [**Wine/beer offered a la carte**]
Pre-registration is preferred.
>> Looking forward to seeing you...in your

orange

and black! <<
Date: Friday, Spetember 8th, 2017
Time: 12 noon - 2 pm
Location: Nassau Club, 6 Mercer St, Princeton, NJ
Nassau Club membership is not necessary to attend this event.

Dress is business casual.
Related Events
First Friday Lunch
( Friday, September 8, 2017 - 12:00 PM to 2:00 PM )

Ryan O'Mara, PhD Candidate at the Woodrow Wilson School and medical student at the University of Florida will discuss pre-/neo-natal and early childhood intervention.
Location: Nassau Club, 6 Mercer St, Princeton
Cost: $25/person dues-paying mbr + guest; $30 others
Organized by: PA3
Posted by lydia 4 months ago.
THIS PAGE WAS CREATED BY AND FOR THE PRINCETON AREA ALUMNI ASSOCIATION. INFORMATION ON THIS PAGE IS INTENDED FOR INDIVIDUAL COMMUNICATION OF A PERSONAL NATURE AMONG PRINCETONIANS. USE OF THIS INFORMATION FOR ANY OTHER PURPOSE IS STRICTLY PROHIBITED. THE PAAA IS SOLELY RESPONSIBLE FOR THE CONTENT ON THIS PAGE. ALTHOUGH WE MAKE EVERY EFFORT TO KEEP THIS INFORMATION ACCURATE, WE CANNOT GUARANTEE IT.