W. Michael Blumenthal *53 *56 P75 P79
U.S. Secretary of the Treasury, 1977 – 1979, under President Jimmy Carter




Blumenthal (3rd from left) shown here with President Carter and Secretary Schlensinger (Energy, left), Undersecretary Solomon (Treasury) and U.S. ambassador to the economic summit Henry Owen during their flight from Washington, D.C. to Anchorage, Saturday, June 23, 1979.
W. Michael Blumenthal was born in Oranienburg, Germany in 1926 and lived in Berlin until leaving for China in 1939. He spent the war years in Shanghai and emigrated to the United States in 1947. He became a U.S. citizen in 1952.

Mr. Blumenthal has had a distinguished career in business, government service and education. He received a B. Sc. degree in business administration from the University of California at Berkeley in 1951, an M.P.A. in public affairs and an M.A. and Ph.D. in economics from Princeton University in 1953 and 1956, respectively. Mr. Blumenthal was the recipient of Princeton University's Madison Medal for outstanding achievement in public service. He has been awarded numerous honorary degrees.

After teaching economics at Princeton University from 1954 to 1957, he joined Crown Cork International Corporation, where he rose to vice president and director.

In 1961, Mr. Blumenthal joined the U.S. State Department as deputy assistant secretary of state for economic affairs. He became an ambassador in 1963 and served for four years as the president's deputy special representative for trade negotiations under Presidents Kennedy and Johnson. In this assignment, he was chairman of the U.S. delegation to the Kennedy Round of Trade Negotiations.

Mr. Blumenthal joined The Bendix Corporation as president of Bendix International in 1967. He assumed the top executive position of chairman of the board and chief executive officer of the Bendix Corporation in 1972.

Following a 10-year career with Bendix, Mr. Blumenthal returned to Washington in January 1977 as the 64th U.S. Secretary of the Treasury in the Carter Administration. He served in that position until his resignation in August 1979.

Mr. Blumenthal became vice chairman of the board of the Burroughs Corporation in February 1980 and chief executive officer of the Corporation in September 1980. He assumed the position of chairman of the board in January 1981. When Burroughs and Sperry Corporations merged in 1986 into the Unisys Corporation, he became Chairman and CEO of Unisys and served in this role until his retirement in 1990.

Mr. Blumenthal was a limited partner of Lazard Frères & Co. LLC, a private international investment bank, from April 1990 through December 1994 and continued as a senior advisor until December 1996.

Mr. Blumenthal has been a member of the board of directors of many corporations. He an Overseer of the International Rescue Committee and is a member of the Council of Foreign Relations and the Century Club in New York City.

Mr. Blumenthal has written numerous articles on business and international economics. He is the author of From Exile to Washington: A Memoir of Leadership in the Twentieth Century (Overlook Press, 2013) which documents his life amidst the heights and depths of the 20th century as well as The Invisible Wall (Counterpoint Press, 1998) -- a book tracing the failed relationship of German gentiles and Jews over the centuries.

Mr. Blumenthal is the Founding Director of the Jewish Museum Berlin. His work began there in December 1997 when Mr. Blumenthal accepted an invitation from the city of Berlin to become President and Chief Executive of the Berlin Jewish Museum. As the largest Jewish museum in Europe and in its location in the new capital of the Federal Republic, the Museum represents a high profile German initiative to depict the often tragic past of German-Jewish history. The project has attracted considerable attention within and outside of Germany. In 1999 and 2006, Mr. Blumenthal was awarded Germany's Senior Medals of Merit for his services to the Federal Republic of Germany in recognition of his work in Berlin.

Mr. Blumenthal is married to the former Barbara Bennett of Placentia, California. They have one son and reside in Princeton, New Jersey. Mr. Blumenthal has three daughters from a former marriage. He enjoys reading on international relations, business affairs, economics and history. His recreational sports are skiing and tennis.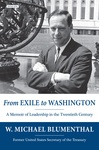 Posted by Princeton AAA over 9 years ago.